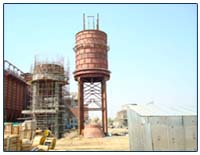 Reena mechanicals pvt. Ltd. is centrally located nagpur based iso 9001:2000 certified company engaged &
well known in the business of designing, manufacturing of conveyor system and other material handling
systems (Coal Handling Plant, Crushing & Screening Plant).

Company is established in 1976. we have wide range of prestigious customers in government / private
sectors in india like coal and metal mining industries, power plants, sponge plants, steel & ferro alloy
industries, cement plants, paper plants, chemical industries etc.