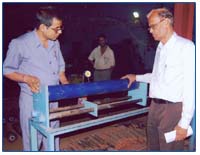 Western Coal Field Ltd.
Manganese Ore (India) Ltd, Nagpur.
South Eastern Coal Field, Ltd.
Bihar State Electricity Board
Goa Electricity Department, Morgaon, Goa.
Patratu Thermal Power Station, Bihar.
Madhydesh Paper Mills Ltd. Saoner.
Chattisgarh State Electricity Board, Korba.
Koradi Thermal Power Station,
Kaperkheda Thermal Power Station,
Chandrapur Thermal Power Station,
M.P. State Electricity Board, Jabalpur
Ordnance Factory, Ambazari.
Ordnance Factory, Khamaria
Ordnance Factory, Bhandara
Ordnance Factory, Badmal.
Ordnance Factory, Varangao
Mining & Allied Machinery Corporation, Nagpur and many more.
NTPC, Bhadarapur, Delhi.
Ordanance factory, Bhusawal. Dumdum
Mineral Exploration Corporation Ltd. Nagpur.
Steel Authority of India Limited, Bhilai
M.P.E.B. Sarni.
Indo Rama Synthetics (I) Ltd. Nagpur
A.C.C. refractory, Butibori
Malu Paper Mills Ltd. Saoner
Gaurav Paper Mills Ltd. Wades.
Grind Well Norton Ltd. Butibori
Universal Ferro & Allied Chemicals Ltd. Tumsar.
Metso Minerals (India ) Pvt. Ltd. Delhi
Ferro alloy Corporation Ltd. Nagpur.
Grey Iron Foundry, Jabalpur.
Rukmani Steel & Power Ltd. Raigarh.
BLA Industries Ltd. Mumbai.
Gopani Iron & Steel Ltd. Mumbai.
Lloyds Metal & Engineers Ltd. Ghughus, Chandrapur.
Lloyds Steel Industries Ltd. Bhugaon, Wardha.
Indrajeet Infrastructures Pvt.Ltd., Wardha.
Kamal Sponge Iron Ltd. Mumbai.
Gupta Coal Washries Ltd. Nagpur.
Morarji Textiles Ltd. ButtiBori, Nagpur.
Sunil Hi-tech Engineers Ltd. Nagpur.
ACC Machinery Co. Ltd. ButtiBori, Nagpur
Sundeep Metal Craft Pvt. Ltd. MIDC, Nagpur.
Jaiswal NECO Industries Ltd., MIDC, Nagpur.
Pix Transmissions Ltd. MIDC, Nagpur
Shri Virangna Steel ltd. Nagpur.
Dinshaws Dairy food Ltd. Butti Bori, Nagpur
Sunflag Iron & Steel Company. Ltd. Bhandara.
Rasoya Proteins Ltd., Nagpur
Murli Industries Ltd. Nagpur.
Richardsons & Crudas (1972) Ltd. MIDC, Nagpur.
Bhatia International Ltd., Chandrapur.
Solar Capitals Ltd., Nagpur.
Minex Metallurgical, Nagpur.
Enmas GB Power Systems Pvt. Ltd. Chennai.
Adani Power Limited, Mundhra (Gujrat)
Uttam Galva Metallics Ltd., Wardha.
Chaman Metallics Ltd., Tadali.
Facor Steel Nagpur.
Gupta Coalfields Limited, Nagpur.